Where O' Where Is Young Mr. Enfield?
First things first, Coach Alford now has TWICE as many Sweet 16's as Andy "Brain Surgeon" Enfield.  We are of course referring to Enfield's pre-season crack about being a better/more successful coach than Coach Alford based on NCAA Sweet 16 appearances.   After finishing DEAD LAST in his inaugural PAC-12 season with a winning percentage of 0.111 (that's right you read it correctly, 0.111%),  we can't wait to hear "Mr. Dunk City" explain how that proves he is a "brilliant basketball mind" (as USC AD Pat Haden refers to him).  Oh and dear Andy, how is that "if you want to play fast go to USC and if you want to play slow go to UCLA" recruiting spiel going these days?  To read our last exposé on this Trojan Rocket Scientist, see HERE.
Found this little video that reminded us of Enfield. Guess which one we think he is…

A New Book On Coach Is Out
"Wooden: A Coach's Life," by Seth Davis, a senior writer for Sports Illustrated and a college basketball analyst for CBS.
HERE is the New York Times review of the book.  Not particularly glowing and of course, has the obligatory "Sam Gilbert" tarnishing the legacy stuff.  I guess controversy sells – expect a book any day blaming Mother Theresa for all the poverty in India.
Odd Little Blog Post About Alford, Wooden And "Wearing" The Net
From the Las Vegas Review-Journal's Ron Kantowski blog:
"I have colleagues that cannot write about Steve Alford, now the coach at UCLA, formerly the coach at New Mexico, without mentioning that he likes to wear a basketball net as a fashion accessory…"
Read the entire blog post HERE.
Tulsa/UCLA Game Photos
Some great photos here from the AP.  Click HERE.
Support The Team – Head To The Sweet Sixteen
From the UCLA website…
2014 NCAA TOURNAMENT
The Bruins are headed to the South Regional and the Sweet Sixteen!
Sweet Sixteen – Thursday, March 27 @ 8:45pm (CT)
UCLA vs. Florida
FedEx Forum, Memphis, TN
Elite Eight – Saturday, March 29 @ TBA
UCLA/Florida vs. Dayton/Stanford
FedEx Forum, Memphis, TN
Season Ticket holders and Wooden Athletic Fund Members must submit their South Regional (March 27 & 29) ticket requests by Sunday, March 23 at 7pm.  UCLA Students must submit their requests by Monday, March 24 at 4pm.
A limited number of tickets for the South Regional will go on sale to UCLA alumni, facutly and staff on Monday, March 24 from 10am-4pm only.  Tickste are $160 each (max 4) and located in the upper section of FedEx Forum. To request tickets, call the UCLA Central Ticket Office at (310) 825-2101.
Should UCLA advance to the Final Four at AT&T Stadium in Arlington, Texas on April 5 & 7, Season Ticket holders and Wooden Athletic Fund members may request tickets online or over the phone at (310) 825-2101 until the request deadline on Monday, March 31 at 4pm.
Students Are Already Taking It To The Gators
"The UCLA Bruins are already gearing up for their Sweet 16 showdown with the Florida Gators. Florida beat UCLA twice during the Gators' back-to-back championship run, so there is history between the two. A blow-up alligator was spotted in the mouth of a statue on campus on Monday."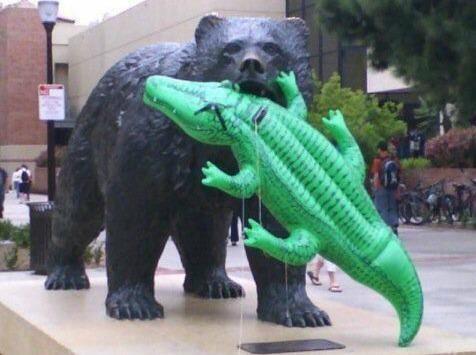 BruinAuthority note: there is speculation that this photo was taken a long time ago, from a prior meeting with the Gators.  Regardless, the Gator fans are freaking out and plagerized the idea by putting a stuffed bear inside their on-campus Gator's mouth.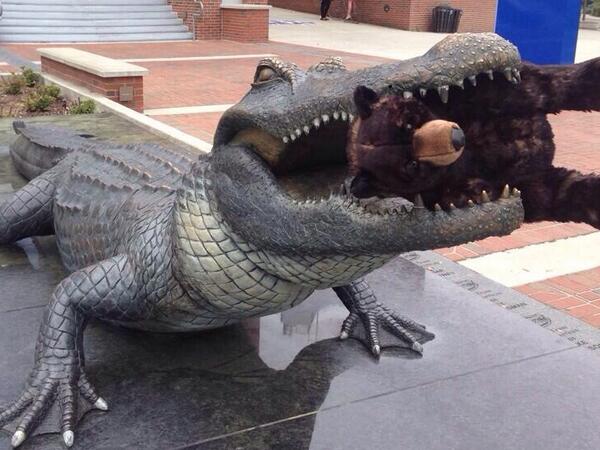 Read the story and see the photo HERE.
Ben Howland Back On The Market
According to the local Milwaukee newspaper, Ben Howland and Marquette have been in contact regarding their open coaching position.
"Howland is said to be extremely interested in the job."
Read the article HERE.